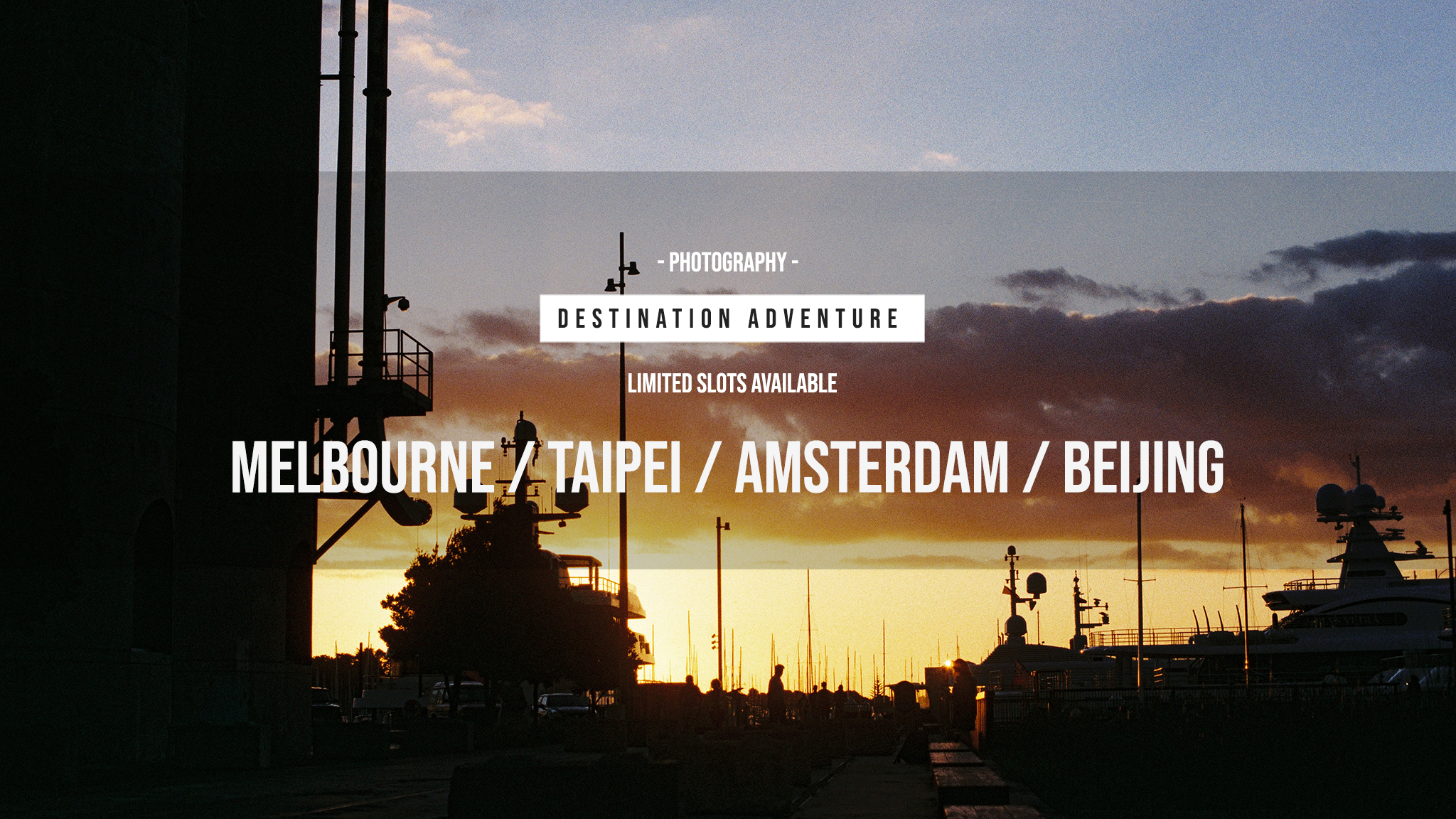 Our Travel Schedule for 2019 :
June – Taipei
July – Amsterdam
October – Melbourne
November – Shanghai

Email info@lauchongjin.com for other travelling dates.
We recommend doing a self-drive road trip wherever possible as it gives us all the freedom to see and explore more sights away from the city. An adventure out into nature is liberating; it allows us to forget about the daily grind, refresh our senses, slow down and soak in the moments with each other. We would also have the flexibility to chase the perfect light during the golden hours, and the possibility of stumbling upon unexpected gems (photo spots) along the way. See our FAQ on destination road trip adventures below for more information, and check out our road trip adventures in Sydney, New Zealand and Europe.
---
FAQ :
1. What can we expect from a destination road trip adventure with you guys?
Fun, memorable, and definitely good quality time to reconnect and learn more about each other (and us too!). There will be lots of exploring, munching, coffee breaks and surprises that pop up along the way. Our adventure sessions are pretty much activity based. Through a series of play and conversations, we seek to capture you in your most natural and authentic selves, where raw emotions flow, and quiet romance lingers, that speak volumes of your love for each other.
2. Can we shoot in our destination beyond the specified dates/period?
The months for travel to the destination above are fixed. However, the dates can be extended or on some instances, we also add in additional trips! So, drop us an email to info@lauchongjin.com if you wish to travel there on other dates.
ps : Amsterdam can go anytime before October 😛
3. How do we go about planning for a destination road trip adventure??
Planning for a destination shoot might seem like a tall order, but really, it isn't! To keep things simple, all our destination packages include round trip airfare for crew as well. We would just need you to cover crew's accommodation and land transportation for everyone for the course of the shoot. 😉
4. Do I have to book my own flight ticket and lodging?
Yes. We will always recommend locations/ accommodation to stay in based on your preferred itinerary.
5. Do I have to provide meals?
No. However, we will not refuse if you do 😉
6. Do we get to choose the shooting locations and what about accommodation?
After deciding on the destination, we would work closely together to plan the itinerary and locations for the shoot – lots of photos and maps in the process. After which, we will search for accommodation favourable for the location and time of the shoot. We recommend staying together in Airbnb apartments, or in the same hotel or even campsites (or somewhere really close by) to facilitate makeup and hairdo for the shoot, especially in the early mornings. Also, we can chill out together, when we're far out from the city.
7. Do we need to bring our own bridal gown and suit?
We would suggest doing away with bridal gowns and suit so you can feel more relaxed, carefree and adventurous without having to juggle multiple luggage. This would also give us more flexibility and mobility when shooting, as we could hike up a small hill, climb over fences, jump on puddles, or run from the rain/snow! However, if you would still like to bring along your wedding gown, we suggest keeping it small, slim and light. Remember, the focus is on you and your love for each other.
We encourage you to get out of your everyday clothes or work wear and put on something that makes you feel amazing! A simple lovely dress for her always works, and for him, avoid t-shirts, polo tees and jeans. Dress up to feel special, excited and as if you're going on your very first date!

8. What about makeup and hairstyling?
Keeping to the natural and organic style, we steer away from overdone and heavy makeup and hairdos. The focus is on bringing out your natural radiance, and adding a tinge of colour to the eyes, cheeks and lips, paired with loose curls, tousled braids, or perhaps a messy up-do.
9. What if I want to shoot in few more another location in selected destination?
There is an additional Meal charges 😛
10. So it's a road trip, do we have to drive all the way?
Generally, we only shoot in the early morning and/or late afternoon. The bulk of the afternoon will be time for resting/driving to the next location. To keep the pace light and enjoyable, we suggest planning locations which are not too far apart (not more than 4 hours drive away). Definitely, we can share the diving load too. We are professional racers in our previous job, so we will get us all to the shooting locations FAST. Ok, we are just kidding on the last bit! 😛
11. What deliverables do we receive at the end?
You will receive 200-300 edited high resolution photographs contained in a USB memory stick and a set of hand-cut matt prints for storing and cherishing those beloved memories and adventures
Tell me all about your wedding venues, schedule, theme/ideas, and all about you! 🙂
Thank you for contacting us. We are excited for the opportunity to have you as a client. We answer all emails within 24 hours.